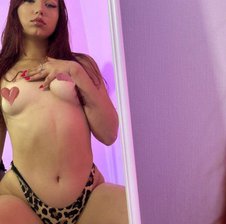 Devilmorana
Seko
Paziņot, kad parādās tiešsaistē
19, Jaunava, латвия, рига
Pēdējoreiz redzēts:
25.10.23 08:13:13
Svarīga informācija par
Devilmorana
| | |
| --- | --- |
| Dzimums | Sieviete |
| Interesējos par | Sievietes, Vīrieši, Pāri, Trans |
| Vecums | 19 |
| Augums | 170 cm - 175 cm |
| Svars | 55 - 60 kg |
| Mati | Rudmate |
| Acis | Zaļas |
| Etniskā piederība | Eiropiešu/Kaukāziešu |
| Valodas | Krievu, Angļu |
| Dzimtene | рига |
| Kaunuma Mati | Kopta |
| Krūtis | Vidējas |
| Pēcpuse | Liels |
Hello everyone! I am glad that you have visited my profile and in this regard, I will be happy to tell you about myself! So, My name Eva.
I think that after graduating from college, I will try to travel more, maybe I will move to another country or something like that. Having found good friends, I can easily move for some time for a cool pastime. I also want to learn other languages, oh yes! I envy people who can think in two or more languages at the same time. It's so cool, right?
I am a very versatile person in music. But my favorite is Pink Floyd, Nirvana, The Black Keys, The Notorious B.I.G, N.W.A, Childish Gambino The Weeknd, Daft Punk and of course I love techno oh yeah I love philosophy, mostly it's Arthur Schopenhauer, I adore Irvine Welsh (CHOOSE LIFE!) and Stephen King and much more
I don't have strict restrictions and rules as such, but still I ask you to treat each other with respect. By the way, by clicking on the heart, you will greatly help me in the development of my account. I hope for your understanding, I'm just a new model here and really appreciate your support. Everyone who clicked on the heart and added me to favorites, I warmly kiss on the cheek, heh
By the way, about other models and, in principle, femininity and everything else, what do you like the most? (here, of course, is a subjective opinion). For example, I don't have as big breasts as I would like, not that I'm complexed, I'm just interested in your opinion...What do you think about this?
anal, dildo inside pussy, squirt
Ko es daru tīmekļkameras priekšā:
Devilmorana uzstāšanās laiki